Try water polo playbook 011 for free.
Information about upgrading from version 009-010 to 011 can be found on the
upgrade page
.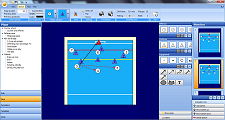 Don't forget to checkout the new
screenshots
and the
feature matrix
.
You can also
download
the plays and view them in the water polo playbook program. Or
view
them on this site.
Water polo Playbook 011 has the following features:


Storing of plays in a database ordered in categories you define.


An easy to use design tool to sketch water polo plays and drills.


An animation screen to help you follow the flow of plays.


A text editor to describe your plays and drills.


An export and import function to exchange plays with other users of this program.


Printing of graphics in high quality.


Creation of plan lists to prepare your practice.