Try basketball playbook 011 for free.
With free play viewer for your iphone/ipad (iOS) and android based phones/tablets.
For a demo have a look at this how to youtube video:
Create an animated basketball play
.
Information about upgrading from version 009-010 to 011 can be found on the
upgrade page
.
section, which now contains more than 1000 plays and drills.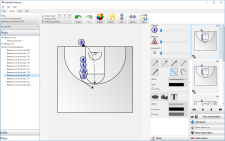 Before downloading Basketball Playbook Software version 011 for Windows 10, Vista,7 and 8.x, you might want to check out the
screenshots
.
You can buy basketball playbook on the
register page
.
For a comparison between the registered and the unregistered version check out the
feature matrix
.