Information about upgrading from version 009-010 to 011 can be found on the upgrade page.



Submitted plays can be viewed in the plays and drills section, which now contains more than 1000 plays and drills.
Most of the plays and drills are animated and you can also download the plays and view them in the playbook program.



View your basketball plays and practice plans on an android phone or tablet with our free play viewer for basketball.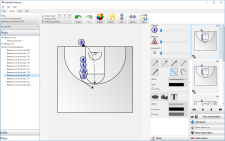 Before downloading Basketball Playbook Software version 011 for Windows XP, Vista,7 and 8.x, you might want to check out the screenshots.

You can buy basketball playbook on the register page.

For a comparison between the registered and the unregistered version check out the feature matrix.

Basketball Playbook has the following features:


An easy to use design tool to sketch basketball plays and drills.


A planning tool to help you prepare your practices quickly.


New style FIBA court.


An animation screen to help you follow the flow of plays.


Storing of plays in a database ordered in categories you define.


A text editor to describe your plays and drills.


Export and import functions to exchange plays with other users of this program.


Printing of graphics in high quality.














Playbook info
Reviews

Download
Playview

Latest basketball plays (27-Feb-2015)

Offense 1 on 1: 1 on 1 with ball

Out of bounds baseline: Baseline out of bounds 101

Offense motion: Continuous pick & roll



Connect
Jes-soft software


Jes-basketball